This week is something of a Gift Guide in reverse, since if we're being honest, we totally ripped off Fair Play Friend Paige. But, Paige had some great, gender-fair ideas for her shower gift and we wanted to showcase them alongside our own latest favorite shower gift. We haven't talked about babies since the New Year (!) so it's probably about time to revisit our shower gifts discussion.
One thing that drives us to a sad, gender-unfair place is all the gendering that tends to happen at a baby shower provided the guests indeed know the gender of the child. It's a girl? Pink! Glowing pink everywhere! It's a boy? All the blue, trucks, trains, and fire engines. And, these gifts have a way of sticking around, because let's face it – expecting parents need these things. Babies require a whole lot of stuff. As we've discussed before, often parents register for what they need and that can be a good place to start. Themed baskets, like Bath Time! Dinner Time! or Story Time!  are as fun to shop for as they are useful for expecting parents. One important principle we've always recommended for shower gifts is that you try to gift for parent and baby together – and that's where we think FPF Paige has really scored. Let's take a look:
First, for baby, she picked an educational and multifunction toy with great gender-fair coloring. The Oball Rainstick Rattle is a rattle, ball, and squishy teething toy in one (BPA free).
It can be thrown, rolled, shaken, and yes, chewed, making it a lasting toy to keep baby occupied for the first year. We love the gender-fair packaging that features boys and girls of multiple races enjoying the rainstick rattle. The rainstick rattle is also readily available in stores and online, for a reasonable $10. For these reasons, we give the oball rainstick rattle our highest rating, 5 pinwheels (I know what you're thinking, you haven't seen these in a while. You can find an explanation of the rating system here.):

For parent and baby, FPF Paige picked out the Aveeno Baby Essential Daily Care gift set.
This set includes wash, shampoo, diaper cream, and lotion for baby, as well as lotion for caregivers. It also includes a handy tote bag to hold it all. For the most part, we love this set. It's a great starter set for the changing table and bathtub, and includes a treat for the grownups too. Most of the products are good quality and very safe. We do want to note that the particular baby lotion included in this set contains parabens, which you or the expecting parents might be choosing to avoid (read more on the Environmental Working Group's page for this lotion here). Other than this lotion, the other products in the set get safe marks from EWG, and the set is affordable ($16), accessible, and gender-fair. We're giving it 4 pinwheels. For our peace of mind, replace that lotion though please…

FYI, if you want something organic, PABA-, and paraben-free across the board, the Babo Botanicals newborn gift set is one of our personal favorites, though a bit more expensive ($36). We also love their lavender bubble bath and use it our own grownup self. It is wonderful for relaxing and inducing sleep after a stressful day.
Rainstick rattle and Aveeno baby set in hand, FPF Paige was ready to party, Fair Play-approved. Congratulations, Paige's friends who are having a baby!
There's one last shower gift we want to mention in this post while we're on the subject. We recently read about them and have become overnight obsessed. The Vintage Honey Shop sells handmade teething ring necklaces.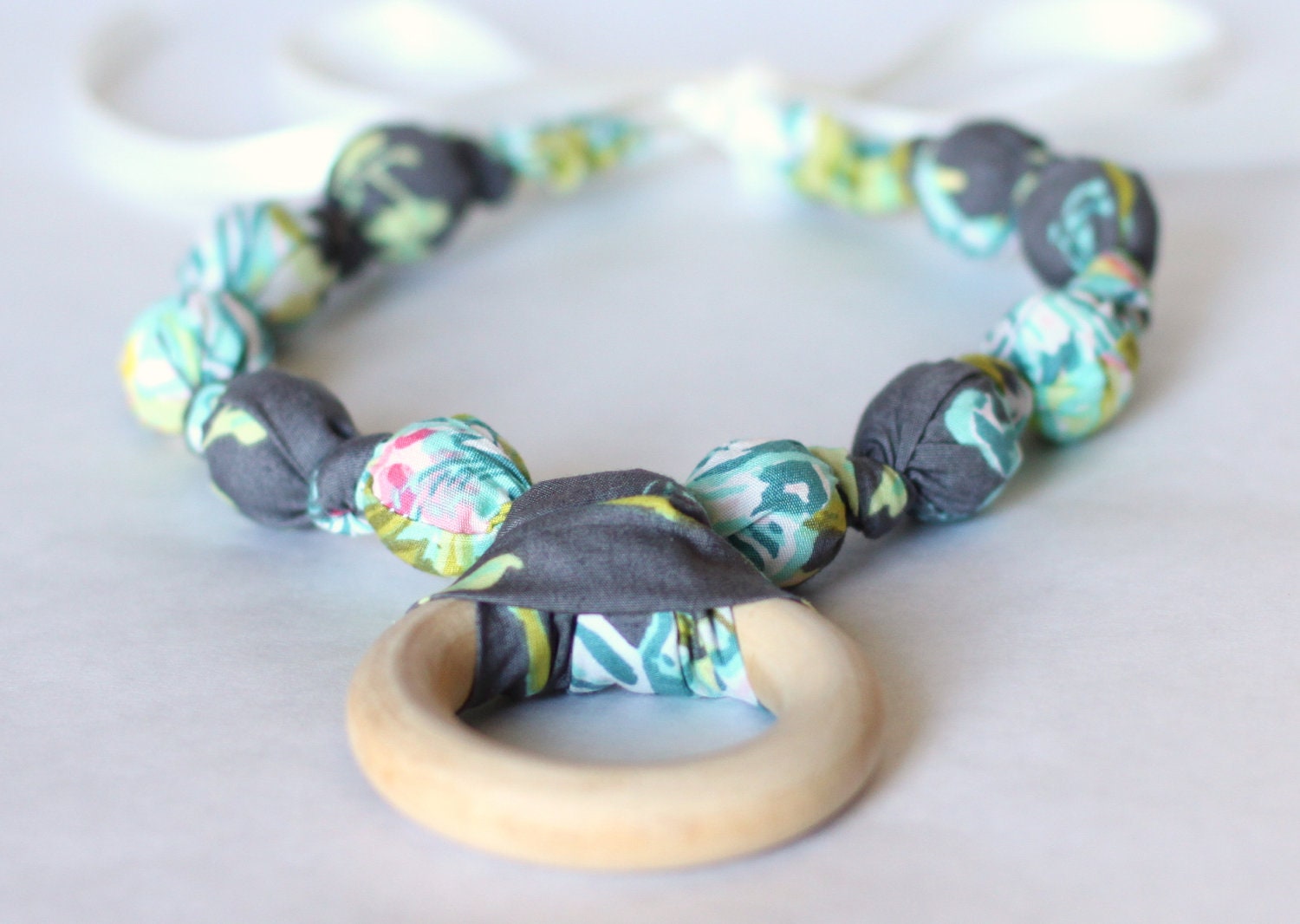 These necklaces are baby-safe jewelry for grownups that kiddos can snack on without hurting themselves or your fancier jewelry. If you've ever held a baby while wearing a necklace (or earrings), you know how those little hands tend to grab and pull. My niece was a particular fan of chewing on my sister's Tiffany lima bean necklace ("bean!" she would endearingly declare, before yanking on it and then shoving it in her mouth). Why not capitalize on this tendency and make stylish but baby safe jewelry? They come in myriad colors, and at $25 each, they are an affordable shower gift. Another 5 pinwheel rating for the day!

Gift Guide is a series in which we respond to YOUR requests for reviews for books, toys, movies, or anything else you can think of, for gift-giving or otherwise. Leave us a note on our Facebook page or on our website at Request a Review and we'll write you a post in response! Check out our previous series about buying for babies, New Year, New Babies.